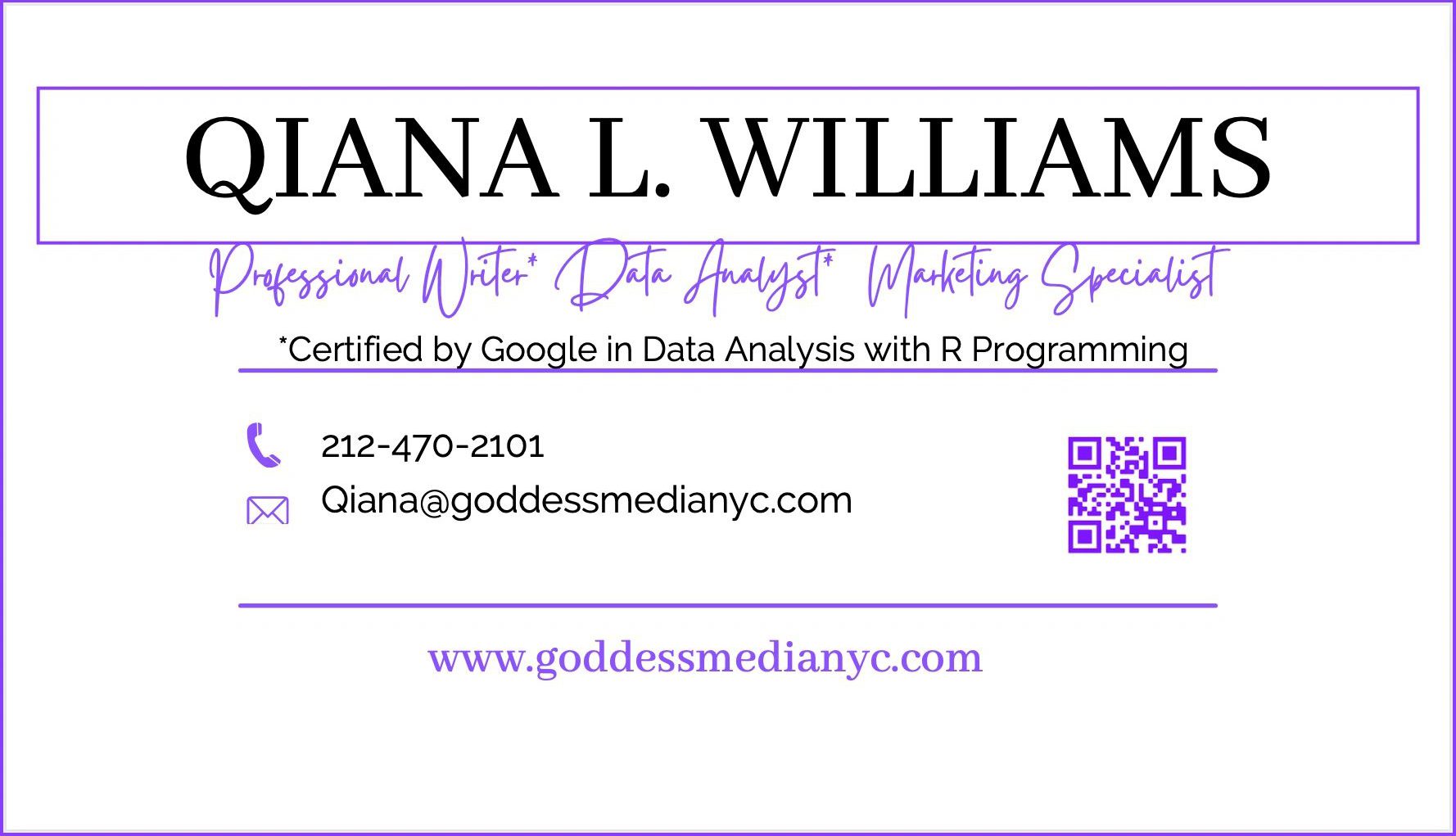 DATA ANALYSIS, DIGITAL MARKETING CAMPAIGNS AND BUSINESS CONSULTATION SERVICES
Thank you for visiting! My name is Qiana Williams, and I am the founder of Goddess Media, Inc. We are a digital marketing firm focused on data-driven solutions. I enjoy working with small businesses struggling with online ranking and sales and in need of social media management, and targeted ad and media campaigns.
First, I am a professional writer and SEO expert. My skill set includes SQL, R Programming, Excel, Google Sheets, Tableau, and evaluating large and small datasets. I'm certified by Google in Data Analysis with R Programming.
The marketing strategies I execute drive traffic to your web pages. Paired with data analytics, I utilize best SEO practices and local and digital ads. The results of analyses increase sales, improve web traffic, and boost online visibility and search ranking.
What is Data Analysis, and Why do I Need It?
Data analysis is the process of gathering, preparing, cleaning, organizing, and processing data for business forecasting and evaluation.
Data analysis captures vital patterns, correlations, trends, and actionable insights. You can make informed, data-driven decisions during all phases of business and anticipate your customer's demands.
Data analysis is crucial for all businesses and industries, regardless of size. You'll learn how customers connect, how to target them, and what products or services they prefer.
Book a consultation today to explore how data analysis will solve your business objectives.
No two companies are alike. Your brand is just as unique as you are!
Social Media Marketing and Management
I create and edit captivating visuals with video and photo content to improve social media engagement and grow your followers. Using on-brand copy and strategic SEO, I excitingly convey your message.
Social media marketing campaigns pair with analyzing social media insights and data. Here, I revert organic traffic to your website and the final point of sale. Followers are great, but you want your followers to become consumers.
What Kind of Marketing Does Goddess Media Provide?
Marketing strategies vary based on consumer needs. I utilize data analysis, marketing research, website content, videos/photos via social media channels, press releases, and digital advertising- to name a few.
Your website and social media data is cleaned, organized, sorted, and analyzed. Using data analysis is a proactive and insightful marketing strategy. Thus, campaigns are effective the first time- and every time.
Clear data visualizations illuminate the story your data tells. The information extracted helps advance your business. Data analysis also improves the accuracy of projections.
Branding and Entrepreneurs
If your brand is just an idea, I will help you define a cohesive, executable plan with active deliverables. Let's transform your idea into a thriving business, starting with a consultation today!
Are you struggling with creating and managing business accounts for your social media platforms?
Have you hit a standstill in your social media marketing efforts
Are you in need of a professional website optimized for web traffic that ranks highly on search engines?
Are you utilizing your social media platforms and website data to make informed, data-driven decisions for your business? Do you require data analysis to know where to begin?
Are your social media pages and website outdated and need a refresh?
Does any business content contain grammatical errors, and rewriting the verbiage will help represent your brand professionally?
What Can Goddess Media Provide my Business?
Let's begin with a business marketing consultation via video or phone. I familiarize myself with your company and brand messaging to complete a full evaluation of your brand.
Marketing, web, and ad copy are written with a solid call to action to encourage sales conversion. Precisely crafted digital marketing efforts cater to your specific needs. I study your company's target demographic to reach new prospects.
Professional Writing Services for Employment Seekers
General 'resume' keywords to describe your employment history are considered mundane. If your resume's first few words and sentences could be more impressive, it's time to upgrade. You should not submit an old or updated resume for your desired job.
A one-size-fits-all approach is a no-no when job hunting. Your resume must speak volumes and stand out among others to land the interview and job of your dreams.
I create or update current resumes tailored to the job and company of your choice. Having several resumes for different exploratory career paths or companies is good practice. Try the resume bundle package.
Goddess Media maintains an outstanding 100% track record of customers landing the job they were seeking after purchasing a resume package.
Most often referred to as a CV, a curriculum vitae is an overview of your life's accomplishments in real time. As a living document, you should update this regularly. In the United States, employers often request a CV for a career or academic job.
Qiana Williams, CEO of Goddess Media Inc., Live on the Red Carpet at the Official NYC Godfather of Harlem Screening in Harlem, NYC Discussing Business Consultation and Digital Marketing Services
GODDESS MEDIA NYC MARKETING AND MEDIA CENTER
From business tips on improving website SEO and gaining authoritative backlinks, to updates on fashion, beauty and entertainment, or learning how to prevent burnout as an entrepreneur- check out the Goddess Media NYC news center to stay up to date!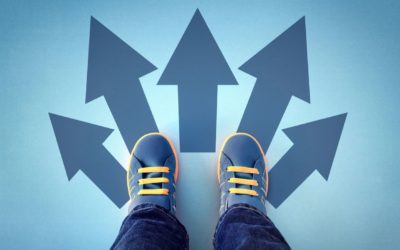 Building a business empire is no easy feat. During hiccups or struggles in your business, you may experience a severe blow to your entrepreneurial self-esteem and level of motivation. Below are some helpful tools to kickstart your creative and inspired mindset, keep...